Glass Price in Pakistan Today 2023
Glasses are an important part of our daily routine. We can't even imagine our lives without glasses. Whenever you see something made of glass, its stylish looks and quality are just over the top. Glass is basically a sign of wealth. Whoever has a lot of wealth tends to show it by decorating their houses with glasses.
There are different prices for different kinds and thicknesses of glass in Pakistan. Transparent plain floating glass prices range from Rs. 45 to Rs. 450 per square foot for 4mm to 19mm thickness.
A 4mm thick piece of tempered glass starts at 120 rupees per square foot. Laminated glass is even more expensive, starting at Rs. 150 per square foot for 4mm.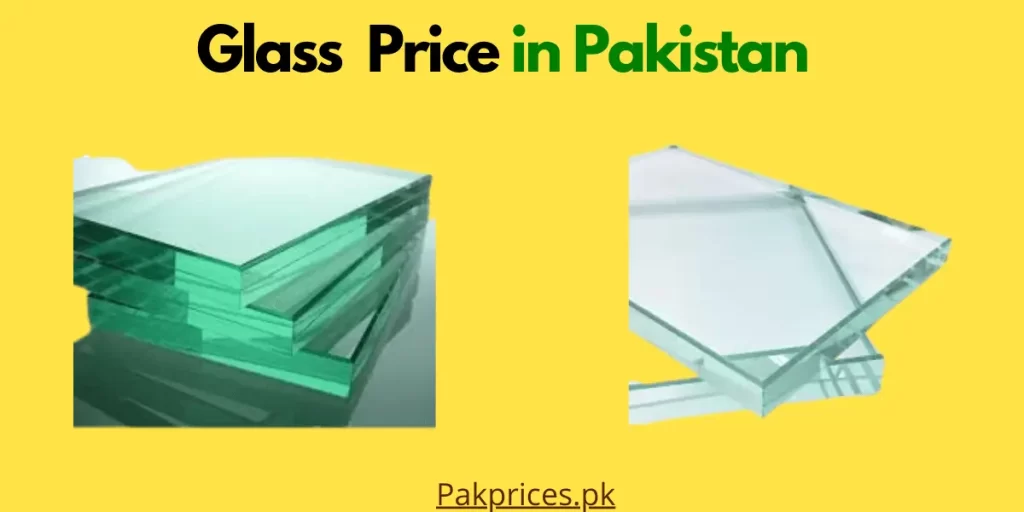 The prices for 12mm glass are also the same. The price of 12mm glass in Pakistan is Rs. 120 to Rs. 500 per square foot for transparent plain float glass. The price of tempered and laminated glass of 12mm thickness is not available at the moment but it can be found in big cities of Pakistan.
Glass Price in Pakistan Today 1 December, 2023
| Glass Type | Measurement in mm | Price Per Sq Ft |
| --- | --- | --- |
| Reflective Blue | 5mm | Rs. 225 |
| Reflective Green | 5mm | Rs. 220 |
| Reflective Brown | 5mm | Rs. 230 |
| Green Glass | 5mm | Rs. 185 |
| Brown | 12mm | Rs. 297 |
| Blue Glass | 5mm | Rs. 198 |
| WC Green Brownish | 5mm | Rs. 165 |
| CC Blue | 5mm | Rs. 175 |
| Green | 8mm | Rs. 370 |
| Clear | 3mm | Rs. 130 |
| Clear Glass | 12mm | Rs. 420 |
Types of Glass
Plain float glass: Usually used for windows, doors, and other applications requiring clarity, this is the most common type of glass.
Tempered glass: You'll find this glass in showers and doors where there's a risk of breakage because it's stronger and more shatter-resistant.
Laminated glass: Between two or more layers of glass, there's a layer of plastic. In case of a crash, it's more resistant to breakage.
Top Glass Companies in Pakistan
Factors Affecting Glass Price in Pakistan
Type of glass: The type of glass will affect the price the most. In terms of price, plain floating glass is the cheapest, while tempered and laminated glass is more expensive.
Thickness: If you want thicker glass, you'll have to pay more.
Size: The bigger the glass, the more it costs.
Frame material: There's a difference in price depending on the frame material. Frames made of metal are usually more expensive than ones made of plastic.
Application of Glass
Glass is a versatile material with a wide range of applications across various industries and everyday life. Here are some common applications of glass:
Windows
Doors
Curtain Walls
Automotive Industry
Bottles and Jars
Home Decor and Furniture
Screens
Fiber Optics
Camera Lenses
Microscope Slides
Glassware
Mirrors
Pros and Cons of Glass
Glass is a versatile material used in various applications, from construction and architecture to consumer products and industrial use. Here are some of the pros and cons of using glass
Pros (Advantages)
Improve vision
Protect eyes from the sun's harmful UV rays
It can be a fashion statement
Reduce glare
Cons (Disadvantages)
Can be uncomfortable
It can easily be lost or broken
Affects peripheral vision
Sunglasses can be hard to wear
Conclusion
The price of glass in Pakistan can vary significantly depending on various factors such as the type of glass, its quality, size, and intended use. While standard glass may be relatively affordable, specialized or high-quality glass products can come at a higher cost. Moreover, market fluctuations, currency exchange rates, and local demand can also influence glass prices in Pakistan.
It is essential for individuals and businesses in Pakistan to carefully assess their specific needs, budget constraints, and aesthetic preferences when considering the purchase of glass products. Additionally, obtaining quotes from multiple suppliers, comparing prices, and understanding the long-term benefits and drawbacks of different types of glass can help make informed decisions.
Frequently Asked Questions