Tiles Price in Pakistan Today 2023 | Ceramic Tile Rate in Pakistan
Are you looking for tiles price in Pakistan? Ceramic tiles are the most popular flooring and wall covering option for tiles in Pakistan. The price of tiles in Pakistan can vary depending on the type of tile, size, quality, and location.
Ceramic tiles are a type of tile made from clay that has been hardened by heat. They are a popular choice for flooring, walls, and backsplashes in homes, offices, and other buildings. These tiles are typically made by pressing and firing clay at high temperatures until it becomes hard and durable. The tiles can then be glazed or left unglazed, depending on the desired look and functionality.
In old times, people used cement and clay for flooring purposes but now people use modern ways, they use Marble and tiles to make the floor elegant. Tiles are durable, easy to clean, and come in a wide variety of designs and colors. They can be used to create a decorative accent.
Also Read: Wash Basin Rate in Pakistan
Also Read: Water Tank Price Today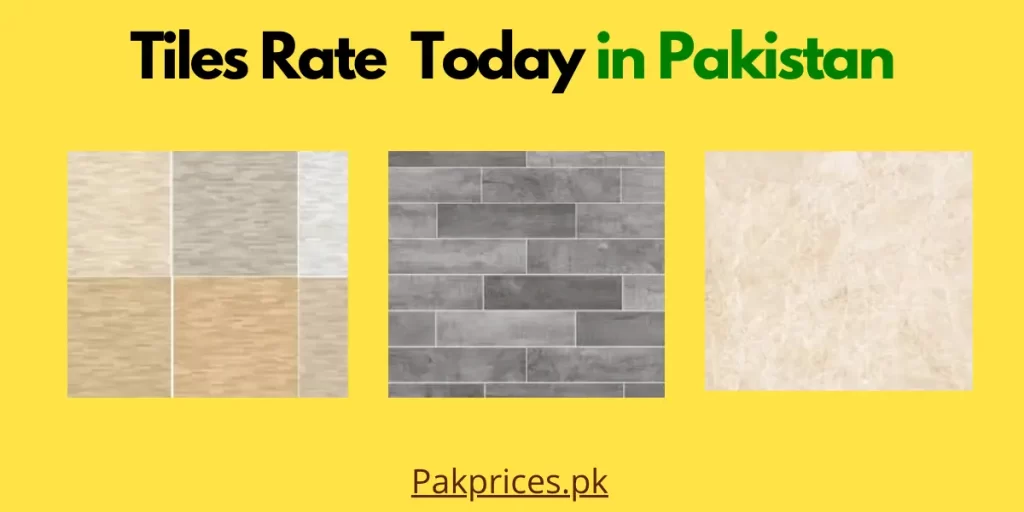 Tiles Rate Today in Pakistan 1 December, 2023 | Ceramic Tiles Price in Pakistan
| Tile Type | Size | Rate Per Sq Meter |
| --- | --- | --- |
| Ceramic | 24*24 | RS. 1500-2000 |
| China Tile | 24*48 | RS. 1300-1800 |
| Master Tile | 12*16 | RS. 1000-1500 |
| Irani Tile | 16*16 | RS. 1300-1600 |
There are several other types of tiles available in the market but we've discussed the most popular. These ceramic tiles are mostly used in rooms and indoors, for outdoor usage tuff tiles and a few others are being used commonly. In Pakistan, prices constantly change due to recent inflation, so we do our best to keep you updated. In case of any delay, you may contact us if the market's rates differ from our website.
Also Read: Pvc Pipe Price in Pakistan
Purpose of Ceramic Titles
Ceramic tiles are commonly used for flooring in homes, offices, and other commercial buildings due to their durability, stain resistance, and easy cleaning.
It can be used to create decorative accents in various settings, such as fireplaces, fountains, and other architectural features.
These tiles can be used for outdoor applications, such as pool surrounds, patios, and walkways. They are resistant to weather and are easy to clean.
Best Tiles Companies in Pakistan
Ceramic Tiles
National Tiles
Sonex Tiles
Gulistan Ceramic
Shafiq Sons Tiles
Time Ceramic
Mughal Tiles
Advantages of Ceramic Tiles
There are several advantages of using ceramic tiles, including
Ceramic tiles are made of clay that is fired at high temperatures, making them very durable and long-lasting.
They are easy to clean and maintain and can be wiped clean with a damp cloth or mopped with a mild detergent solution
These tiles are available in various colors, sizes, and designs, making them versatile and easy to use in different design styles
Disadvantages of Ceramic Tiles
While ceramic tiles offer many advantages, there are also some potential drawbacks to consider, including
Ceramic tiles can be slippery when wet, which can be a safety hazard in areas such as bathrooms, kitchens, and entryways
Tiles are susceptible to cracking and chipping if heavy objects are dropped on them, which can result in expensive repairs
They aren't good insulators, so they can make a room feel cold in the winter and hot in the summer
What factors should be considered while buying tiles?
When buying tiles, it's important to consider factors such as the purpose of the tiles, the material they're made from, their size and shape, color and pattern, durability, maintenance requirements, and cost. Taking these factors into account will help you choose the right tiles for your needs and budget.
FAQs